PRIVACY POLICY for Android Apps
1. Last updated: 2021-06-27
AE SYSTEME, www.terminal-systems.de IT company is registered with headquarters in Art-Events Walter & Schilling GmbH - Am
Gueterbahnhof 15 - DE-31303 Burgdorf / Hannover / Germany. We take the privacy of our customers
seriously and are committed to safeguarding your privacy while you use our Software.
2. Information Collection
Our software doesn't collect, store or use any data from you or from your device (this includes any
Personal or Non-Personal Identifiable Information), except the one you input and request to be saved
using the app buttons.
3. Use of Information.
We never release information to other parties or do any kind of remarketing. You can use the
SEND/SAVE feature to release your information. But this sent is always done only when you request it
and it is your responsibility to whom you send it.
4. Children.
Our software is not directed to children. But it doesn't contain nor has access to inappropriate content.
The app and its ads exclude adult and gambling content.
5. Security and ads.
Our software doesn't shows ads. The security of your information is important to us, but remember that
no method of transmission over the Internet, or method of electronic storage, is 100% secure.
6. Customer Service.
For assistance or questions regarding this Privacy Policy you may email us at info@terminal-systems.de
AE-SYSTEME
Am Güterbahnhof 15
D-31303 Burgdorf
info@terminal-systems.de
www.terminal-systems.de
Tel.: +49-(0)5136/80 24 21
Bilder zeigen Beispiele. Änderungen vorbehalten.
Developer: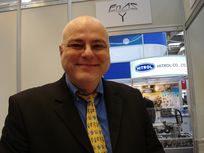 Hans-J. Walter is senior programmer at AE SYSTEME and responsible for most of the software parts in our product portfolio. If you have questions or any comments please feel free to contact him directly at
(No SPAM please!)