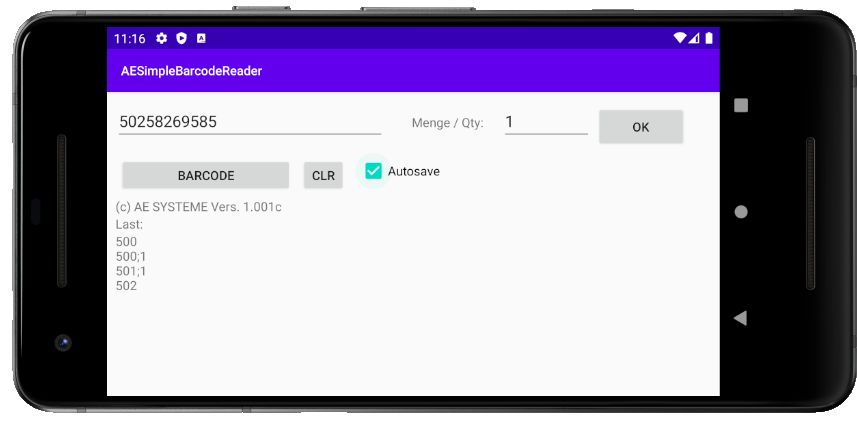 AE Simple Barcode App for Android Devices:
For inventory, mobile barcode capturing and more - this app makes it easy and simple:
Scann your barcode direct with your mobile phone, use the internal camera as scanner
optionally input a qty.
Save all the data.
Transfer saved file to your local computer, import and use it into Excel / SQL or other software
Data format: XLS CSV, for direct and easy import collected data to office or other software packages
Installation: Download APK file from our website, install APK at Android smartphone! Ready!
Note: you must enable camera (for barcode reading) and memory (for saving values) at your smartphone.
Easy and fast input of item lists with barcode
Data format XLS CSV TXT for easy transfer to your local computer
Simple import in AE WWS LITE possible
AutoSave: Automatic save barcode with preinput qty
Easy transfer from your smartphone /DOWNLOAD folder
XLS CSV format, barcode and qty fields separated by ;
Barcode scan or manual input possible
Supports all standard barcodes e.g. 1D, QR, DataMatrix and others
Quick installation:
Download packed ZIP file to your computer
Unpack ZIP at your computer
Transfer Android APK file to your mobile phone / Android device
Click APK file at your Android device will start installing process
Go to Android settings, allow needed permissions e.g. for memory (for saving data) and camera (for barcode reading)
Start application
Usage:
Collect your data
While you are finished: transfer file to your computer
 Import in Excel, SQL or our inventory management system AE WWS Lite