---
Detail Page: MGW986/920
Datalogging System for M-Bus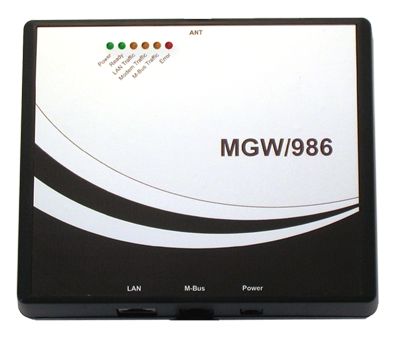 Picture: MGW986M Front View

Picture: MGW986M Bottom Side, DIN RAIL brackets option
CPU

Vortex86DX 32 bit x86 SoC, 300Mhz

BIOS
PC-compatible AMI Basic I/O System
RAM

64MB DDR2 SRAM

Flash

1GB NAND Flash Speicher

Ethernet LAN

10/100 Mbit LAN, RJ45 Connector

M-Bus Interface

M-BUS Master Interface, RJ12 Connector

LED Output

6 Status LED

Operating System

Linux Kernel 2.4/2.6

Software
Smart Metering software with internal database preinstalled, easy individual configuration via HTTP web protocoll (ECM). Integrated Telnet and FTP server.
Version

For wall mounting or (OPTION) DIN / IEC rail mounting

Mechanical

152,4 x 127 x 31,1 mm

Power
12VDC power, fanless, LOW power: ca. 3 Watt with used M-BUS Master, Linux booted and active ECM database software
Environment
For 0...+60°C temperature
Optionally
Integrated GPRS modem for communication via mobile cell phone network
DIN RAIL brackets for DIN RAIL mounting
Manufactured:
This product fullfills the criteria: Made in Germany = German product for highest industrial quality!
---
Technical information without warranty. Pictures are showing samples.
AE Systeme www.terminal-systems.de - Solutions for Industrial IT | D-31303 Burgdorf
Tel: +49 5136 802421 | Fax: +49 5136 9776368 | info@terminal-systems.de